An online conference on the current consultation for the development of European regulation on crypto-assets was hosted by the European Commission on May 13, 2020. EC members and the industry exchanged thoughts and promoted the need to implementing real next steps on the space.
Participating as representatives of Cyprus, and in alignment with other European associations, we expressed our position and thoughts, in an effort to transfer the industry voice to the regulators.
While the European Commission members were guiding the taxonomy of digital assets, the need for several new regulations which seem to be complex and unknown waters (as they claim), quickly raised the voice of worries from the participants. There has not yet been if the EU is trying to structure a set of new legislative acts or if everything will fall under the existing financial and payment services regulations, as acknowledged by the officials.
It has been made clear that the EU is currently working on the following types of regulations:
Crypto Exchanges
Trading Platforms
Custodial Wallets
Industry associations and practitioners immediately express their worries on this approach, as well as our willingness and thoughts on how to quickly move ahead. It is widely accepted that the EU is failing to give clear directions. "We discuss too much, companies are lost. We can build on the existing regulation. It's just the technology that changed", former FCA senior Caroline Michel mentioned.
Jules Landrieu of Euronext, discussing the taxonomy matters stated that "The new regulations should not be on the taxonomy of the digital assets, but rather on the services themselves".
On the other hand, sharing his experiences on digital assets' projects, like blockchain bonds, and in partnership with other banks, John Whelan head of Digital Banking of Banco Santander, mentioned that "through our experience, taxonomy is needed while being a practitioner, even though we cannot classify everything in full".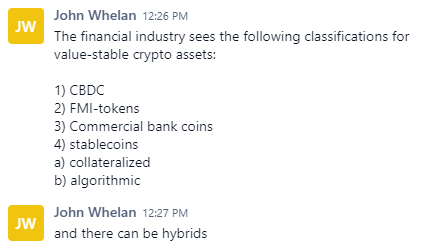 The topic of stablecoins was also discussed. The EU is not handling it as a priority, other than the AML and customer protection thoughts on the matter. Udo Milkau, Head of Strategy and Market Development Transaction Banking at DZ Bank, mentioned that stablecoins are a really important for the new era of digital finance and stated "We shouldn't ban stablecoins. A global stablecoin should also be on the table".
The overall vibe is that the EU is still lagging behind other regions and it fails to deliver reforms. Industry professionals, companies, associations, and consortia expressed the willingness to offer solutions and knowledge while the EU allows innovation to foster through several schemes, such as sandboxes.
A recent consultation paper on the crypto regulation in Europe can be found here.