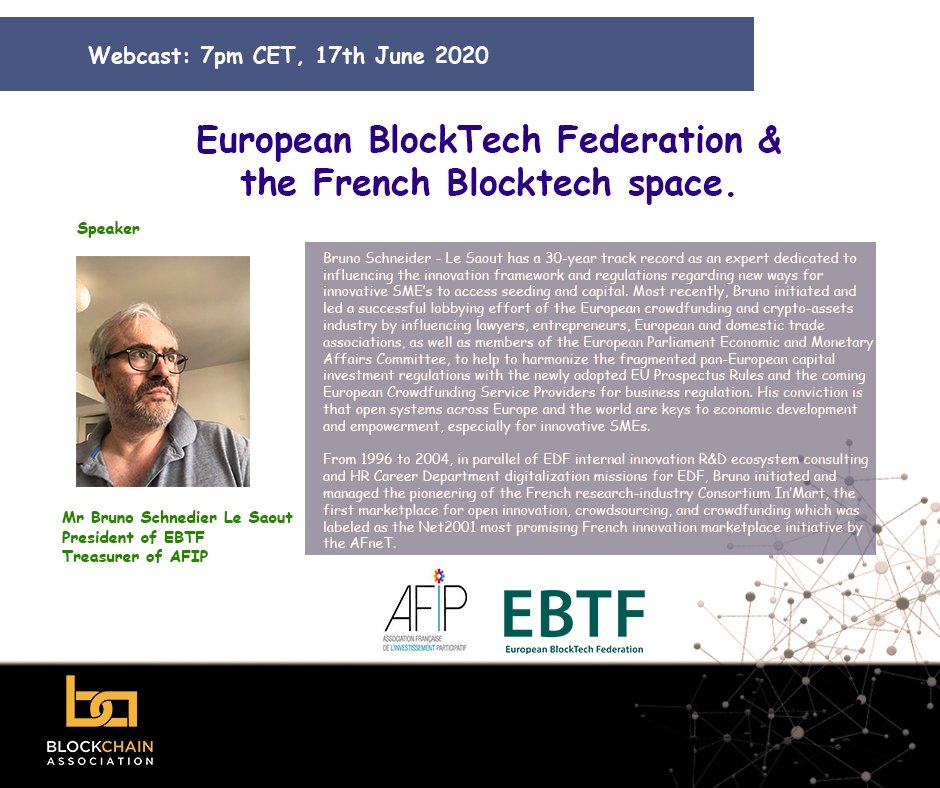 We have the honour to host a webcast with the President of the European BlockTech Federation and the French AFIP, Mr Bruno Schneider-Le Saout.
The discussion will cover the current developments within Europe and present the ongoing work of the equivalent associations and members.
Webcast Link
This is a FREE Webcast. Find more about this event on our Facebook Page or via clicking the link here https://www.facebook.com/events/548176706057832/
Few words about our speaker.
Bruno Schneider – Le Saout has a 30-year track record as an expert dedicated to influencing the innovation framework and regulations regarding new ways for innovative SME's to access seeding and capital. Most recently, Bruno initiated and led a successful lobbying effort of the European crowdfunding and crypto-assets industry by influencing lawyers, entrepreneurs, European and domestic trade associations, as well as members of the European Parliament Economic and Monetary Affairs Committee, to help to harmonize the fragmented pan-European capital investment regulations with the newly adopted EU Prospectus Rules and the coming European Crowdfunding Services Provider for business regulation. His conviction is that open systems across Europe and the world are keys to economic development and empowerment, especially for innovative SMEs.
Bruno is a visionary, ahead of the curve, able to see the future applications of new technology.
At present time, he is involved as Chair and founder of the European BlockTech Federation, EBTF, and as distributed solutions or blockchain security software publishers strategic advisor, on industry startups and SMEs development and initiatives for harmonized regulations on the European and international level.
Since 2010, Bruno has been advocating for alternative sources of funding development for innovative new businesses and SMEs alike on the International and European levels and volunteering in non-profit investment association boards and financial industry fintech, blockchain, and crowdfunding regulation workgroups at Paris Europlace.
From 2004 to 2010 Bruno Schneider – Le Saout focused on financial regulation compliance and joined French first outsourcing financial regulatory affairs, financial regulator relationship management and compliance consultancy for small asset management firms as CIO and Senior Manager.
From 1996 to 2004, in parallel of EDF internal innovation R&D ecosystem consulting and HR Career Department digitalization missions for EDF, Bruno initiated and managed the pioneering of the French research-industry Consortium In'Mart, the first marketplace for open innovation, crowdsourcing, and crowdfunding which was labeled as the Net2001 most promising French innovation marketplace initiative by the AFneT, a French Industry Internet promotion agency. This prototyped platform demonstrated how digital open systems can stimulate and foster innovation, bootstrapping and seeding of innovative startups projects. After the Internet bubble split and the subsequent loss of the main sponsors of the In'Mart Consortium, the open innovation marketplace development stopped.